Mic Pac Void Fill being discontinued - but we do have Bio-Void Fill!


494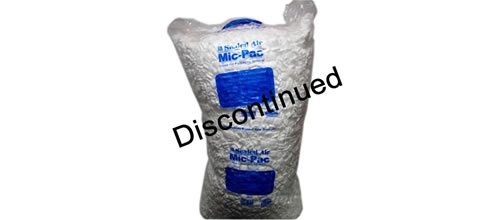 Mic Pac void fill is the loose fill product produced and supplied by Sealed Air. Due to its non-environmentally constitution and feed back from their customers they have made the global decision to discontinue it's production. Sealed Air are moving their focus into improving their customer experience through reduction in product damages via improved fulfilment velocity (i.e. quicker packaging options) and cube optimisation. Excellent examples of products they produce to achieve this focus are Instapak Quick Bags and Instapak Machines - the foam in bag system that creates custom made foam cushions, the NewAir I.B Express System that allows users to create their own bubblewrap on demand and can produce 16.5 meters of bubblewrap per minute or even the FasFil EZ Paper Void-Fill System that will crimp recycled brown paper to create void fill inside packages. All of these options are non-mess and certainly improve fulfilment velocity. See our news item and video on the NewAir IB Express System that shows how it is so much more efficient in meeting this focus.
For those customers who still prefer the loose fill option Get Packed still supply an environmentally biodegrdable void fill.
---
Leave a comment