Are you ready for Black Friday, Cyber Monday or even Christmas?


532
Ok - So Black Friday and Cyber Monday (23rd and 26th November) are US sale events, but Australians love to get involved in a sale non the less and so more and more Australian stores are getting involved each year. And let's not forget that it's the sale event that starts the Christmas spending season. So if it's not too late already it's very definitely time to get your goods - and your packaging ready!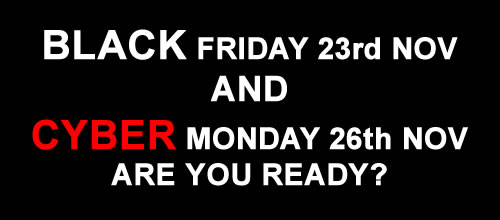 What do you need?
BASIC PACKAGING PRODUCTS:
Cartons and packaging tape - you need to send your stock to the stores, or you may even need boxes just to send your stock to your customer. And which packaging tape you ask? Our most popular tape by far is a 48mm clear premium grade tape (2-48VR-C) and you'll find it here. And what about a tape dispenser? - here it is (2-PG-LN-H14).
Want some Environmentally Friendly Packaging choices?
Do you Need Returnable Bags for mailed out goods?

What about the Shurtuff Mailers Round Trip Bags - tough, light, water resistant, tamper resistant, easy for printing and handwriting and have the added benefit of enabling customers to return goods in the same bag they were sent in.
We have an extensive range of packaging alternatives from protective and padded mailer envelopes, machines that will assist in getting boxes bundled securely for deliveries such as strapping machines, or even strapping kits so you can do it manually. We also have a category dedicated to Protective Packaging if you need to consider choices available to you.
Alternatively please contact us as we're always happy to discuss what products might suit your needs best.
---
Leave a comment