Bottle Labellers - Manual and Semi Automatic


620
Are you applying shrink sleeves? Then maybe it's time to consider a bottle labeller too.
If you're using shrink sleeves on your bottles and jars then chances are you are also applying labels to them too. If this is the case, an Australian made Bottle Labelling Machine may be worth considering.
Get Packed supply two types of bottle labellers - a BenchMate Manual bottle labeller (with different variations to suit different sized bottles) and a Semi Automatic option - either the BenchMARK, the BenchDELUXE or the BenchMAX each with different specifications for different sized bottles.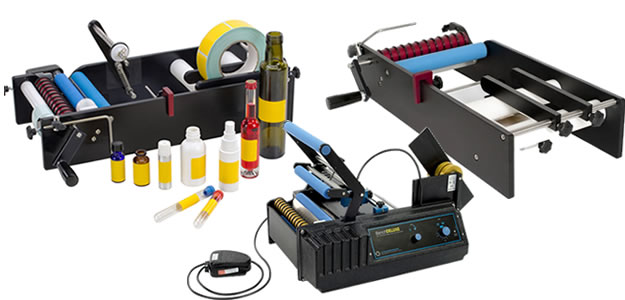 The manual bottle labelling machines can apply 8-12 labels per minute. They are simple to set up and apply the labels perfectly each time. They can save you crucial time in your production and suit a range of round or circular products such as jars, bottles, vials and tubes with a minimum diameter of 55mm. (The diameter is the length across - passing through circle's centre). However the BenchMATE+ can label containers as small as 15mm diameter.

The BenchMATE is the entry level manual bottle labeller starting at $1180 (+freight +gst) and is suitable for bottles with dimensions (min) 55mm container diameter up to (max) 180mm container diameter. View all specifications here. And of course the BenchMATE+ can do all the BenchMATE can, but it can label containers as small as 15mm (min) diameter - 180mm (max) diameter.

Next in the BenchMATE Widebody manual bottle labelling machine which is the same, but can take a larger label with a maximum height (of the label) of 230mm vs 186mm for the standard BenchMATE. View all specifications here.

The third option is the BenchMATE+Widebody manual bottle labeller which can take the larger labels as well can be used for small-diameter bottles or containers, with a minimum diameter of 15mm (versus 55mm for the other two). View all specifications here.

The Semi Automatic Bottle labelling machines can apply over 1000 labels per hour perfectly every time and are suitable for wine bottles, beer bottles, cans, tubes or vials.Capacity can be increased beyond 1000 per hour using foot pedals and orientation sensors for unparalleled accuracy.

Firstly the BenchMARK is the starting model which can take containers with min diameters of 50mm up to a max of 110mm diameter, (or min 15mm by adding a small container adaptor). View all specifications here.

Next is the BenchDELUXE where the handle can be removed to allowed for larger containers that are pre-filled (when pre-filled no weight from the handle needs to be applied) , or even an extended handle which will only label large containers between 110mm and 220mm in diameter (if the container needs to be empty - meaning the handle will apply weight). View all specifications here.
The BenchMAX provides the same as the BenchDELUXE, but will work on smaller containers again - from 8mm diameter, same maximum. View all specifications
here
.
Video below is of the BenchMATE manual label applicator.
---
Leave a comment