Custom branding and custom printing your packaging tape


556
Considering inexpensive ways to promote your business? Or are you simply trying to send a message?
Whether you're trying to grow brand awareness or make sure your packages are plastered with promotional messages like 'buy one get one free' custom printed tape is an inexpesive way of getting the message through as well as providing the practical aspect of sealing closed boxes.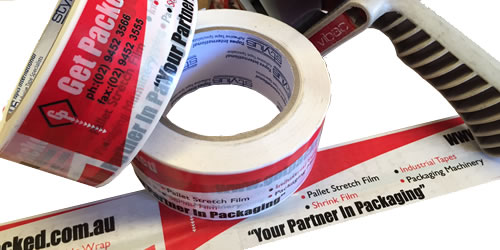 Consider the following advantages of branding with custom printed tape:
When cartons arrive to your customers they are sealed closed with tape covered with your logo and/or web address. This is a simple way of creating the perception of a large, substantial and solid business - therefore more likely to be trustworthy, inspire confidence and one your customers want to deal with again.
Even large businesses need to inspire confidence with customers - and this is often done with branding.
Packages that arrive to your customers are amongst the first impression they get of you - make sure it's a good one
Custom printed tape turns your plain packaging into an advertising opportunity - use it.
Any branding opportunity encourages brand awareness and brand recognition.
You may wish to promote sales, environmentally friendliness, or simply web addresses - custom printed tape is a great way to do this.
Custom printing can be done on tape widths from 24mm to 144mm in up to 3 colours. Standard colours for printing are available and colour matching also. Background colours / tape colours available are white, clear, brown, red, yellow, green and fluro orange. If you're interested please call us or click on the 'email us' icon in the top right hand corner of this page to discuss further and we can provide a quote.
For additional information and to view video's please follow the link to Printed Tape.
---
Leave a comment