Jiffy Mailers and Mailing Tubes


459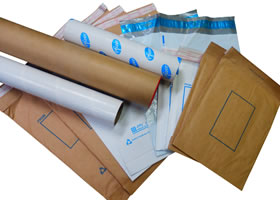 Jiffy Mailer Products have been recognized by distribution professionals as the standard of excellence for quality in protective mailers for over 50 years. Produced according to world class standards, these Sealed Air products represent the most complete line of cushioned, non-cushioned and rigid protective mailers to suit most small application. Jiffy Mailers have earned the confidence of small parcel shippers in a diverse array of industries such as: publishing, mail order, parts distribution and printing industry.
Jiffy Mailers include - Jiffy Lite, Jiffy Rigi, Jiffy Gusset, and the most popular and the original the Jiffy Padded mailer.
Mailing Tubes are the perfect alternative to Jiffy Mailers when you have a larger or longer item such as a poster, print or construction plans that need to be sent via the post or courier and still need product protection. We have standard mailing tubes off the shelf or we can custom make them to suit your requirements.
Why not make Jiffy Mailer Products or Mailing Tubes an integral part of your corporate identity program? Whether you print a logo or trademark, promotional message and/or other custom graphics, can provide additional value such as brand and corporate recognition & Increased sales and customer loyalty. Custom printing promotes your product while providing excellent product protection.
For more information on the range please view these PDF's.
---
Leave a comment