Latest Zapak Strapping Tools are the toughest yet


478
Get Packed has just brought in a new shipment of the latest Zapak Battery Operated Combination Strapping Tools - Zapak 97A.
The heavy duty Zapak 97A and the lighter Zapak 93A are the latest battery operated strapping tool brought out in the last 3 years.
They have all the same features but are equipped with the most advanced devices to endure under the heaviest of workloads. To determine this Zapak randomly picked out 5 tools from their production line and pushed them to 250,000 cycles. Each cycle was carried out by an actual operator performing full cycle testing of tensioning, sealing and cutting on smooth PET Strapping (16mm x 1mm) and they all proved their reliability completely succesfully.
Zapak Battery Operation Combination tools all feature:
pre-programmed touch panels
special tool retreating devices to ensure smooth and easy removal of tools
unique rear-emd roller design to prevent scratches
user self adjustable strap widths guiders and self-changeable wearing parts
optional hanger to reduce operational fatigue
For more information on each of the strapping tools including specifications please follow the links within this website: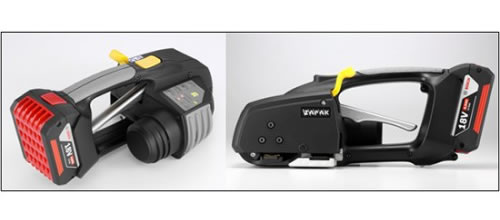 ---
Leave a comment