New Shipment of Strapping Machines Just in!


499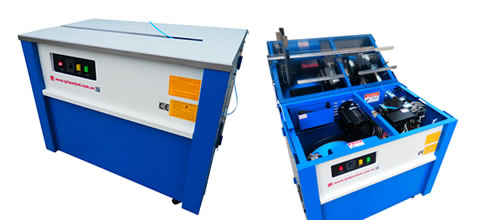 We've just had a new shipment of strapping machines in - so we have plenty of machines to help you bundle those items together. Just in time for that busy time of year where your manual way of strapping goods/cartons together is just too slow for the volume. It could be that the old strapping machines just aren't up to the job - or it's just time for an upgrade.
If you think about how it's done manually - you have to place the strapping around the item, then insert it into the strapping tool, pull on it to get your tension - and then put a clip on the strapping which is then closed with a crimper or sealer. This is time consuming when you have more than just a few jobs to do. In a busy warehouse or fulfillment centre where larger jobs and higher volumes are being dispatched then this manual method is actually costing you money.
Alternatively you could be using a semi-automatic strapping machine (see how easy it is below), and just completng the whole process in a moment. Our strapping machines come on wheels so can be easily moved around a warehouse.
Get Packed also supplies rolls of machine strapping, in blue, clear/white or black- see if you can get one for free with a machine from one of our sales staff.
---
Leave a comment