RoundTrip Courier Bags - make it easy for your customers


484
Imagine how easy it would be for you if, after purchasing an item online and discovering it's either the wrong size, or wrong colour, you could simply place the item back into the bag it came in and put it back in the letter box to return. No taping required, no new bag required - just to be able to re-use the one you were sent.
Imagine being the supplier and getting prompt and secure returns.
This is what can be done with a Shurtuff RoundTrip Courier Bag. Not only is it made of a mulitlayered film construction for maximum tear and impact/puncture resisitance - it now has the option of 2 seals.
Seal 1 is made by the supplier (seller). The Shurtuff has high strength welded seams that resisit bursting and allow for overstuffing. They are ideal for ebay or on-line sellers. When your customer receives and opens their bag there is a labelled "Pull Here" tab to enable easy, pre-perforated opening.
Seal 2 is used if an item is being returned (which unfortunately will often happen - especially with clothing purchases). It is a simple peal and seal process that creates another tamper evident seal - keeping the item not only secure but waterproof.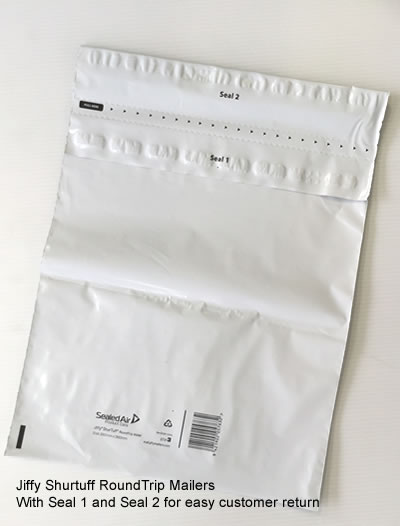 ---
Leave a comment