Shrink Film - Why is Polyolefin Shrink Film better than PVC Shrink Film?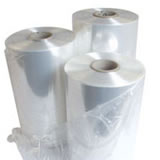 291
As both PVC Shrink Film and Polyolefin Shrink film (D940 or Impact)are supplied by Get Packed and both can be shrunk using either a Shrink Tunnel or a Heat Gun a common question asked is: What is the difference – and why does Get Packed sell only one roll of PVC to 100 of the Polyolefin?
The reasons are this:
We will recommend PVC Shrink Film for Gift Hampers as PVC has a high clarity rigid finish, but for everything else Polyolefin is the same or better without the irritation of odour and smoke that comes when you heat PVC shrink film.
Features & Benefits of Polyolefin Shrink Film vs P.V.C ( PVC Shrink Film)
• Polyolefin is a food grade film – so can be used directly with food. PVC is not.

• PVC is a rigid and brittle film whilst Polyolefin is more pliable and does not tear
as easily – therefore better for bundling items.

• Polyolefin does not yellow or become brittle with age like PVC

• When shrunk, Polyolefin creates little odour or smoke, whilst the PVC must be heated / shrunk in a well ventilated room due to the smoke and odour.

• PVC may leave a black residue on the film after sealing.

• Polyolefin will give a clearer finish than PVC shrink Film

• Polyolefin films run on high speed Automatic machines.

• With a new technology Polyolefin Shrink films such as the Cryovac CT-301 are thinner and stronger, which means less film used.
---
Leave a comment