Tamper Evident Packaging - what are the choices?


497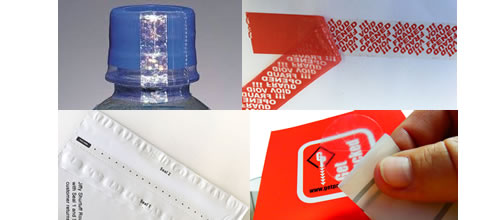 In todays market consumers are very savvy when it comes to needing assurance that the item they have purchased is safe and intact. At Get Packed we like to supply not only products, but solutions. So keeping this all in mind, below are some possible solutions that meet not only the need of assurance your customers require, but professional and upmarket looking packaging alternatives.
Shrink Sleeves
As far as your customer is concerned they just want to know that no-one before them has opened this container or jar. They want to know that the food contents are safe from contaminents as well as any tampering. PVC Shrink Sleeves are a clear tamper proof plastic sleeve that when shrunk provides that seal that when broken indicates tampering. Shrink sleeves can be pre-cut, perforated or non-perforated and come in a range of widths. The are simply placed over the top of the jar and 'shrunk' using either a heat gun or shrink tunnel (see video below). They can be used by both small operators (applying by hand) or larger operators in production lines.
Clear Circle Labels
Clear Circle Labels, also known as Tamper Proof Security Labels are available as either perforated or non-perforated. Whilst the non-perforated variety are often used as a professional finish to packaging, as well as a closing tab, the perforated are used to identify tampering. If the perforated tamper seals are removed they break apart so tampering becomes obvious.
Security Tape
When it comes to ultimate assurances that a carton or box hasn't been opened the Security Tape is the one. Emblazoned with "Void Fraud Opened" this tape is placed/attached over the item being sealed and then the protective lining is removed leaving the tamper evident tape behind. This tape cannot be removed without obviously tampering/damaging the tape.
As an alternative to security tape we also supply standard and custom printed tapes - standard message such as 'Fragile', 'Urgent', or 'Handle with Care' or we can arrange your own custom message.
Shrink Film
Shrink Film is most commonly used to bundle items together, but it is also used to assure customers that, when the shrink film is intact, the goods have not been tampered with and everything they have paid for is there (not lost or detached). For example; CD's, DVD's, bundled items like gift hampers.
Shurtuff Mailer Bags
These courier bags are most commonly used in on-line sales dispatching for soft items. They are popular as they have a tamper proof seal that cannot be opened without damaging the packaging. Shurtuff mailers are made of a mulit-layered polyolefin film that is puncture and tear resistant. Get Packed now also supplies a new range - RoundTrip Shurtuff mailers. The benefit of the RoundTrip mailer is not only can it provide that customer assurance of security, it has an additional peel and seal section that enables customers to return goods using the same bag - providing the same tamper proofing on the goods return.
Water Activated Tape
This kind of tape is used on cardboard cartons and activated through contact with water - that is - when the gum is moistened (through using either manual or electronic water activated taping machines) and applied to the carton it simply makes the carton pilfer proof - where any attempt to access the carton is clearly obvious as it would tear due to the superior adhesive qualities of water activated tape.For additional strength, water activated tape is also available with 3 way filaments laminated between the layers of paper.
To discuss what form of protective tamper proof packaging would suit your needs please feel free to contact us directly.
---
Leave a comment