Why Gummed Tape / Water Activated Tape can be the preferred option to standard packaging tape


550
Time to consider gummed paper tape - or water activated tape - as an alternative to traditional packaging tape when it comes to sealing your cartons and boxes. It starts dry and then the adhesive is activated by applying water.
For a start it is made from a renewable resource and is an environmentally friendly alternative to traditionally used plastic tapes. It is 100% ecological, biodegradable and environmentally friendly as not only is kraft paper a natural product, the glue is produced form potato starch. It is cost effective and requires less material per seal than traditional packaging tape. So what makes it a superior alternative to traditional packaging tape?
as gummed tape is water activated the adhesive actually penetrates the fibre of the carton and creates a complete seal and total bond between the tape and the box thereby improving the integrity of your seal for shipping. See second video below.
as the adhesive penetrates the fibre of the carton - any attempt made to remove the gummed tape is obvious as it actually tears the outer surface of the carton upon removal. As a result gummed paper tape / water activated tape could be considered tamper evident.
Gummed paper tape can take extremes in temperature without compromising its seal. In extreme heat, humidity and cold the seal retains its strength as well as retaining its seal over a period of time making it the preferred solution in long term storage.
In sealing cartons Water Activated tape provides a 21% increase in productivity when compared to using a tape gun with standard plastic packaging tape as well as an 8% reduction in the amount of tape used.
Water Activated tape is also printer friendly so logo's and messages are as equally attainable as traditional packaging tapes.
We have a couple of options when it comes to gummed tape machines which will dispense pre-determined lengths of water activated tape that can be applied directly to the box or carton eliminating the need for hand tape guns and the pulling motion required to apply and cut the tape: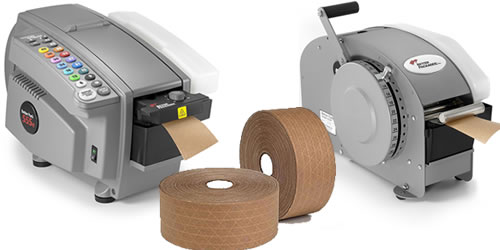 Manual Water Activate Tape Dispenser BP333 (right) - This is a bench top machine that has 15 pre-set tape length settings where you simply set the desired length, pull the lever and the activated tape is dispensed. Please click on the link to view the video.
Electronic Water Activated Tape Dispenser BP-555eFACM (left) - This is an electric bench top dispenser but will dispense lengths of gummed/water activated tape at the push of a button. It features 14 preset colour coded keys that will dispense lengths from 15cm to 145cm at 114cm per second.
---
Leave a comment