Wow! This is what they're using recycled plastic for?


526
Reduce, Re-use and Recycle. We've all heard this before, but there are some Australian companies doing great things with recycled plastic. Problem is, we're not supporting them by considering their products as an option and as a result a lot of that re-usable plastic is stock-piling due to lack of demand. Let's look at the process and how we can help.
Let's start with a list of some of the end products made from recycled plastic;
Outdoor seating (think bench sets in parks, tables and chairs in school yards and playgrounds, poolside lounges)
Bollards
Decking - for both residential and commercial use
Exercise Equipment - commonly seen in parks and communal recreational areas
Fences
Outdoor pavillions
Signage and more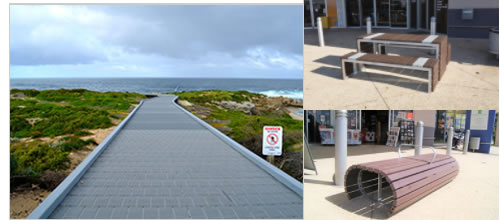 So where does it start? Great Australian companies like REDcycle have initiated a soft plastic recovery program where they have teamed up with large companies like Coles and Woolworths to make it very easy for consumers to deposit their post consumption soft plastics. These partner companies have REDcycle bins near the checkouts where we can all leave our old soft plastics for recycling. Not to mention the fantastic council recycling facilities that collect other plastic containers, but unfortunately the soft plastic bags jam their automated sorting machines - so companies like REDcycle tackle what Councils can't. For Australian businesses there area a number of local businesses accepting commercial wate. Polytrade Recycling and Suez Australia are just two examples.

Next, companies like REDcycle will forward all of the plastics to recycling companies. Currently 50% of recycled material is sent off shore. However there are wonderful Australian companies like Replas (view video below) who create great quality and good looking products like the one's listed above. Other Australian companies like Sancell not only recycle and re-use a lot of their own plastic which is then put into their Amour Padded Mailer Bags (made of up to 15% recycled material), but whatever can't be used in their own manufacturing is collected by other third party polymer recyclers.
So what can we do? For a start we should all be placing all plastics into recycling bins, whether it be council bins or REDcycle bins at your local Woolworths or Coles (check the REDcycle website for a list of cooperating companies) and Australian businesses should look at sending their plastic commercial waste to recyclers. One thing Get Packed does is to re-use a lot of our plastic wrapping as void fillers when we send out stock. This works extremely well and saves us money as well as the environment.
Consider your packaging?
Look at the following for starters:
Reduce
Re-Use
Shurtuff Round Trip Courier Bags

- ideal for on-line retailers as returns are made easy for customers as they simply re-use the same bag the goods came. They have a second peel-and seal strip that ensure security of the items on their return trip.

HSM Profipack Cardboard perforator/shredder

- Instead of throwing out the cardboard cartons your stock comes in, turn it into smart looking protective packaging with the Cardboard Perforator.
Recycle
Jiffy Padded kraft Mailers

- Using a strong and heavy duty kraft paper exterior the Jiffy mailers are great as the internal padding is made from 100% recycled paper fibre.
Next is when you have a need for a product that might otherwise be made of wood, look to save our trees and consider the recycled plastic alternatives - the plastic is already there - let's use it!
---
Leave a comment