Packaging Choices for the On-Line Business


504
Packaging is such a broad term - so it can be difficult to find packaging options that relate specifically to the needs of an e-commerce store. What choices do you have when it comes to packaging your items for mail and delivery?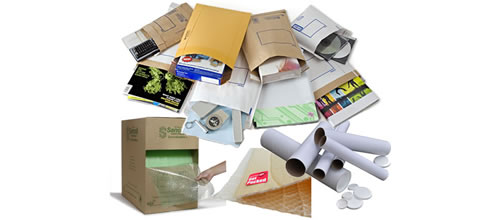 With on-line sales there are a number of things to consider. The weight and therefore cost of your packaging - as everything goes via the post/courier; Some are very particular that their packaging is environmentally friendly. Does the packaging protect your product whilst it's in the mailing and delivery process? Whether you require padding or have the need for your item to remain flat - therefore requiring packaging to be rigid and unbendable. Must it be packaging that customers can re-use and therefore enable returning easily? All of these questions are considered with the following options.
Environmentally Friendly Choices:
See Jiffy Utility Mailers and Jiffy Padded Mailers above

Shurtuff Bags and RoundTrip Mailers

- These are a hardy and very lightweight mail bag that are made of a tear resistant

multi-later polyolefin film with a matte outside layer ideal for printing. The RoundTrip bags have the added benefit of having two tamper evident peel and seal strips which when the customer receives their item (where the first strip has been used on dispatch), if they wish to return their item they re-use the bag utlising the second strip to re-seal the bag.

Jiffy Lite Mailer

- Provides the protection of bubble padding within, but with a white kraft paper exterior.

Protecta Padded Mailers

- padded protection is provided with a triple layer of bubble wrap within and a tamper evident seal. This is available in either a matt or shiny finish, and opening on either the long or short side.

Jiffy Rigi Mailer

- Ideal to keep items flat, the Rigi mailer is made of an extra rigid yellow kraft laminated fibreboard exterior, (no padding).

Jiffy Gusset Mailer

- made of a heavy duty white kraft paper exterior, the Jiffy Gusset mailer has a built in gusset on each side to allow or expansion. (no padding)

Black Padded Mailer Bags

- Being matt black they provide 100% blockout which ensures privacy and discretion.
Extra Padding or Protection Required?
Sometimes when mailing items extra padding is required. You may need rigidity in your envelope or mailing tube, but also the extra padding of bubblewrap.
Office rolls sized Bubblewrap

- Whilst there are the industrial sized rolls of bubblewrap available, sometimes a conveniently sized and pre-perforated bubblewrap is more suited to your office space. Handywrap is a roll of 375mm width bubblewrap that has been perforated every 400mm for easy tear and is conveniently dispensed from the box.

Kraft Laminated Bubblewrap

- provides an extra robust packaging solution.
There are clearly many more choices and alternatives available. If what your seeking isn't listed above then please call us and we can help you locate what would suit your needs. If you have the right packaging to suit your product then you are more likely to have your items received by your customers intact.
---
Leave a comment