What are all the different types of Packaging Tape?


633
Choosing the right packaging tape for your needs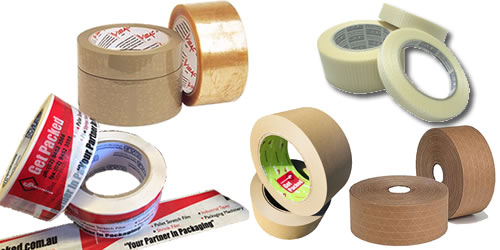 When it comes to just using tapes to seal your boxes and cartons you can't help buy wonder why there are so many different types. Aren't they all the same?
The short answer is no. You may have a problem with pilfering, or just that the tape won't stick to your box. Or maybe your boxes are kept in cold storage and when they go in the cold all the tape comes off. Below are some different types of tape that address all of the issues.
Custom Printed Tape - great for reinforcing your brand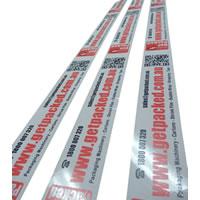 Printed tape is most commonly done on polypropylene or PVC tape, but other tapes like filament tape and paper tape can also be custom printed on. Up to 3 colours can be used but Get Packed's tape (above) uses only 2 colours - red and black as it has been printed on white tape. Numerous other coloured tape is available. For more information please follow the link. Custom Printed Tape
Why would I choose this? If you're taping cartons anyway then custom printed packaging tape is the simplest form of marketing and happens without any extra work. It's an inexpensive way of marketing your business or company and is often customers first impression of you as they receive your boxed goods.


Water Activated Tape - no more pilfering and it's environmentally friendly
There are two great reasons you would seriously consider water activated tape.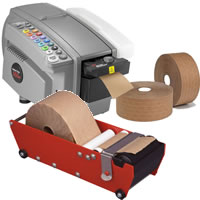 You're looking for increased security and pilfer proofing your boxes OR you're looking at the environmentally friendly side of using a paper tape which seals using a starch based adhesive - or both.Water activated tape will adhere to the fibres of your carton making it near impossible to get into the carton without it being noticeable. You can make it simple and use a small desk top dispenser that is filled with water, or you can use an electronic water activated tape dispenser which will dispense the length you need at the touch of a button.
Ubis Kraft Paper Tape - Environmentally friendly and can be custom printed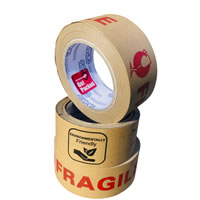 Here's an easier alternative to the water activated tape in that it's environmentally friendly with the adhesive being made from synthetic rubber adhesive - but without the need to wet it. Which unfortunately doesn't give you the same pilfer proofing as water activated tape - but can be used with a standard taping gun with good enough tack to attach to even recycled cartons.
The added beauty of the Ubis range is that it can be custom printed, comes in machine rolls as well as hand rolls as well as an alternative that is reinforced with fibregalss filaments for added strength and peace of mind.
Natural Rubber Adhesive Packaging Tapes - strong stick even in cool room situations

Tapes that use a natural rubber adhesive tend to be darker in colour as the adhesive will yellow with age. These are an all rounder when it comes to packaging as they will provide a strong and aggressive tack even in cool room situations. Get Packed supply a low noise tape, a compostable tape that uses a PLA Bio based film, and a premium tape - all available in both hand and machine tapes.
Hot Melt Synthetic Rubber Adhesive Packaging Tapes - economical tape, great on virgin board (non-recycled)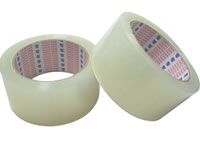 The hot melt adhesive tapes are best used on virgin board, great for adapting to different shapes and are great for securing and sealing cartons at an economical rate. They are sold at a lower price to other tapes as they aren't as much of an all rounder in all temperatures - but great for lighter to heavy applications on virgin board. Available in PP105 hand rolls and machine rolls
---
Leave a comment